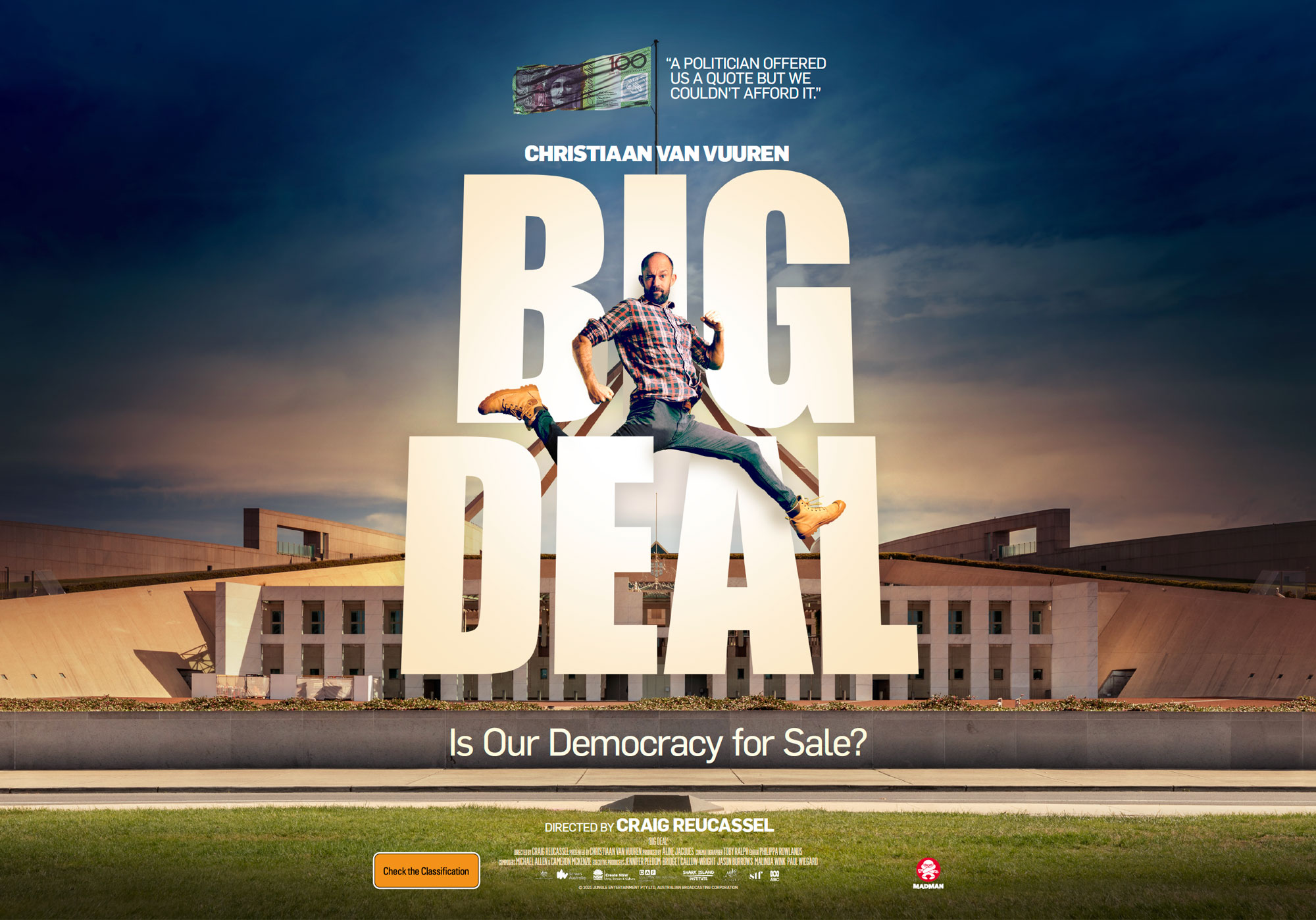 Big Deal: Is Our Democracy for Sale?
Directed by Craig Reucassel, Big Deal is a wake-up call about the frightening extent to which money has infiltrated politics. Comedian Christiaan Van Vuuren's unlikely journey shows us why we should care, and how we might work together to ensure our democracy is safeguarded from being sold to the highest bidder. 300,000+ watched the film in theatres, online, or on the ABC and media reach was over 5.3m.
Funding area: Accountable government
Grants
2020 Signature Grant, $50,000
2021 Rapid Response Grant, $20,000
Impact campaign
The Big Deal documentary and its impact campaign exemplifies the power of alliances between film-makers, civil society organisations, philanthropists, corporates and media to support ground-breaking films that can shift consciousness, behaviour and influence policy.
Mannifera was an early and multi-year funder of the Big Deal's social impact campaign, with the tagline, 'democracy is not a spectator sport'. Launched six months before the 2022 federal election was called, the Big Deal gave momentum to burgeoning community-led campaigns and continued to deepen understanding of our political system and inspire action.
The Big Deal team strategically aligned with Australian Democracy Network's #OurDemocracy campaign, an alliance of 50+ civil society organisations. The documentary resulted in 13,000+ active supporters who continue to participate in the #OurDemocracy movement, contributing to the "integrity election" of 2022 which saw a significant proportion of candidates elected on the basis of their platforms to improve integrity in politics. The documentary has curriculum resources being used by hundreds of schools and universities as well as a corporate screening program, and continues to foster relationships that can safeguard our democracy from being sold to the highest bidder.